Dog warning after attacks on sheep in South Yorkshire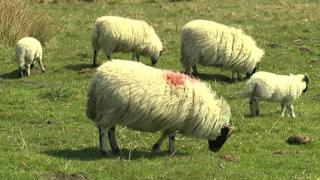 Dog walkers have been urged to keep their animals under control after a spate of attacks on livestock.
Farmers in South Yorkshire told BBC Look North that more than 20 sheep had been attacked since April.
South Yorkshire Police have put up notices warning dog owners they could be prosecuted if their pet is found to be out of control.
Farmer Nick Denniff said 11 of his sheep had been chased by dogs and three had been killed.
Mr Denniff, who farms land to the west of Sheffield, said dog walkers need to take proper care of their pets.
"One woman said to me her dog was only out of her sight for 10 seconds but I explained to her that in 10 seconds that dog goes back a million years. In that split-second it's a wolf, it's hunting and it's going to kill," he said.
National Trust ranger Chris Millner said: "If they get chased by a dog, especially if they are in lamb, they can abort their lambs or if they have a lamb at heel they will turn round to protect those lambs and they will present the dog with a fight situation and the winner there will be the dog not the sheep."
Dog walkers who fail to keep their pet under control can be prosecuted under the Dogs (Protection of Livestock) Act 1953.