Memorial service for former MP Lord Mason of Barnsley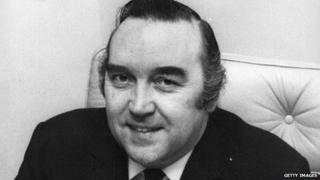 The life of former Labour MP Lord Mason of Barnsley is being celebrated in a memorial ceremony.
Roy Mason, who died in April at the age of 91, was an ex-miner who served as the town's MP for more than 30 years.
He held a number of government posts during his career including secretary of state for defence.
The ceremony at St Mary's Church in Barnsley is being led by the Rev Canon Stephen Race and includes a tribute from Barnsley Central MP Dan Jarvis.
Lord Mason joined the House of Lords in 1987 having represented Barnsley Central between 1983 and 1987.
He was previously the MP for Barnsley for 30 years from 1953.
Barnsley's mayor, Councillor Brian Mathers, said: "Lord Mason was a well respected MP and will always be fondly remembered.
"This special service will provide the opportunity for us to celebrate his life and all that he has done for Barnsley."