Sheffield's Don Valley site gets £14m sports research pledge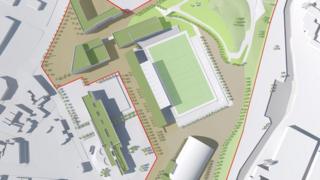 Sheffield's Olympic Legacy Park is to get £14m from the government for a new physical activity research centre.
The Advanced Wellbeing Research Centre (AWRC) is to be the "centrepiece" of the park, on the site of the former Don Valley Stadium.
Researchers and engineers will analyse physical activity and develop new services and products.
The money will fund its building while negotiations are ongoing with the private sector to finance its running.
Professor Philip Jones, vice-chancellor of Sheffield Hallam University, said the AWRC would be an "exceptional asset" for Sheffield, and would "revolutionise sport, health-care, physical activity and leisure".
Analysis: James Vincent, BBC Yorkshire Political Reporter
When the Don Valley Stadium came crashing down most thought Sheffield's sporting legacy was gone. But with a budget boost a new sports hub might change that.
The chancellor's red Budget briefcase has opened and £14m has appeared for the Advanced Wellbeing Research Centre to be built. It is money that otherwise would have come from the private sector. Given the public debt created by the stadium, maybe private finance would have been seen a safer option. But, project managers hope its varied "cluster" approach will see it prosper.
The Olympic Legacy Park will also include a new college and facilities for the Sheffield Eagles and Sheffield Sharks.
Some will lament the red track where Jessica Ennis first discovered athletics being pulled up. Others will see this as having wider potential to improve everyone's health.
The investment was announced as part of the government's Budget.
The Olympic Legacy Park in the east of Sheffield is due to open in 2016 and will incorporate the existing English Institute of Sport and iceSheffield.
The park is a joint venture between Sheffield Hallam University and the private sector. Sheffield Teaching Hospitals NHS Trust and the city council are also partners.
It will be home to Sheffield Eagles rugby club, which lost its base when the Don Valley Arena was closed and demolished in 2013.
A new school for two-16 year olds and a technology college will also be built plus an indoor community arena for Sheffield Sharks basketball team.