Sheffield man jailed for life for killing wife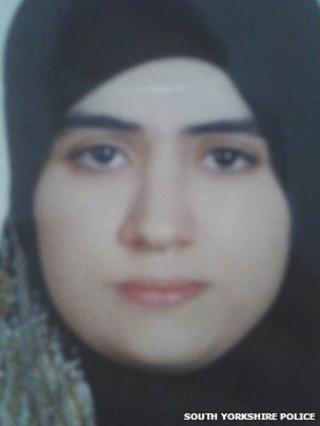 An "evil" husband who murdered his wife before hiding her body in a cupboard has been jailed for at least 23 years.
Thahi Manaa, 37, repeatedly stabbed Sara Al Shourefi, 28, at the home they shared with their four children in The Oval, in Firth Park, Sheffield.
Manaa was jailed for life at Sheffield Crown Court after being found guilty of murder by a jury.
The victim's sister Narjis Farhoud said: "Thahi is evil and intentionally caused my sister to suffer."
He had previously entered a guilty plea to manslaughter on the grounds of diminished responsibility, but this was rejected by the Crown Prosecution Service.
'Truly horrifying'
Passing sentence Mrs Justice Cox said Manaa had subjected his wife to a "ferocious and chilling attack of unimaginable barbarity" with weapons including a drill bit, screwdrivers, and two metal bars, one of which was bent as a result of the force used.
A post-mortem examination revealed she had suffered at least 270 separate injuries.
The judge said the "pain, terror, anguish and desperation" Sara Al Shourefi suffered was "truly horrifying to contemplate".
She said it was "more likely than not" that Manaa was suffering from an as-then undiagnosed serious psychotic illness when he killed his wife.
'Punished by God'
Speaking after the jury returned its unanimous guilty verdict, Narjis Farhoud said her sister was a "kind, gentle and lovely-natured person."
She said: "I think that the British justice system is fair and has come to the right conclusion and because of this great system it has been proved for sure that Thahi is evil and intentionally caused my sister to suffer, something which I knew all along.
"I am pleased that Thahi has not managed to trick anyone, not only will he be punished by God but he will spend a very long time in prison."