Sheffield's old town hall: Campaign group formed to secure future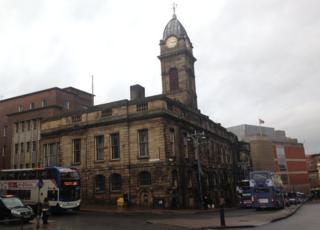 A campaign group has been formed in a bid to bring a historic Sheffield building "left to rot" back into use.
The Friends of the Old Town Hall say they are concerned about the condition of the Grade II-listed building on Waingate, and have called on its owners to make their intentions known.
The former town hall and court house, which was built in 1808, has stood empty since 1996.
The BBC has been unable to reach owners G1 London Property for a comment.
Valerie Bayliss, chair of the Friends of the Old Town Hall, said: "I'm personally outraged that an important listed building has been left to rot for nearly 20 years."
She said the Friends had been awarded £4,000 by Locality, a nationwide network of community-led organisations, to launch its campaign.
At-risk building
Mrs Bayliss said some of the money would go towards paying for a professional appraisal of alternative uses for the building.
She said: "We've asked the owners to meet us to talk about their intentions for the building's future."
The old town hall, which acted as a court house for the city from the 19th Century until 1996, has been named as one of 10 at-risk buildings by the Campaign Against Delinquent Ownership (CADO).
In 2007, the Victorian Society placed it on their list of most at-risk buildings in the whole of the UK.
CADO co-ordinator Jess Steele said "Sheffield's Old Town Hall, like too many buildings all over the country, is stuck in 'delinquent' ownership that is leaving it to rot. CADO helps communities and local authorities take action in these circumstances."
Sheffield City Council announced in July 2014 it hoped to develop the Castlegate area of Sheffield, opposite the building as part of a £5m project.
A council spokesman said the restoration formed a "key part of the Council's Castlegate regeneration strategy".
He said: "The Council has for many years continued to press the owners of the building to both carry out essential repairs and to come up with proposals for its reuse or sale.
"The establishment of the Friends is warmly welcomed by the Council, bringing fresh energy and imagination to this task."