Craig Lindley: Appeal for Guillain-Barré sufferer in Thai hospital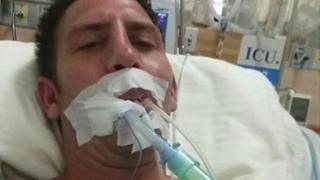 An online appeal has been launched to pay the medical costs of a South Yorkshire man who fell seriously ill in Thailand on New Year's Day, after bills reached more than £20,000.
Craig Lindley, 35, from Barnsley, collapsed while in Thailand to celebrate a friend's wedding.
He has Guillain-Barré syndrome, a rare illness of the nervous system, but does not have travel insurance.
Mr Lindley's brother, Karl, said the whole experience had been "horrible".
"He woke up, went on to his balcony and collapsed - he couldn't feel his legs," his brother said. "He had to be taken by speedboat from the island to Koh Samui Hospital."
Guillain-Barré syndrome affects the peripheral nervous system, affecting about 1,200 people in the UK every year.
Karl said it cost £17,000 to get Craig to hospital, plus hospital bills of £3,000 a day, and treatment on top of this.
Craig's friends, also on holiday in Thailand, set up the online appeal site to raise funds for medical costs after finding he had no valid travel insurance in his documents.
So far, £15,000 has been raised.
Mr Lindley has done a lot of work with youth clubs and amateur boxing coaching. He had been travelling around the world for the past five years, but spent the last year working in Germany.
Craig's father, Frank, who lives at Hoyle Mill in Barnsley, said the medical bills were "astronomical" but support from friends and family to help pay for the costs had been "phenomenal".
Sean Tipton, from the Association of British Travel Agents (ABTA), said people without travel insurance receive consular help from the Foreign Office, but the financial burden rests with friends and family.
It is not known how long Mr Lindley will be in hospital in Bangkok.