National Crime Agency begins Rotherham abuse inquiry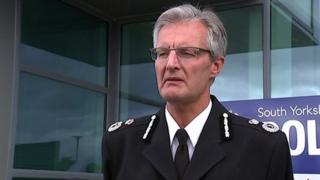 The National Crime Agency (NCA) has begun an investigation into child sexual exploitation in Rotherham.
It follows the release of the Jay report in August, which revealed more than 1,400 children were the victims of abuse between 1997 and 2013.
A number of resignations followed the report including South Yorkshire's Police and Crime Commissioner, Shaun Wright.
South Yorkshire Police said the force would co-operate fully with the NCA.
Two stage inquiry
Professor Alexis Jay's report, commissioned by Rotherham Council, revealed children as young as 11 had been raped by multiple perpetrators, abducted, trafficked to other cities in England, beaten and intimidated.
Victims have spoken of their families being threatened and complaints to the authorities being ignored.
The report criticised failures in the council's leadership and said South Yorkshire Police had failed to prioritise the issue.
It said failures to protect children happened despite three reports into the issue, between 2002 and 2006, which the council and police were both aware of.
Following the barrage of criticism in the aftermath of the report, South Yorkshire Police Chief Constable, David Crompton, asked the NCA to investigate.
He said: "All officers and staff in South Yorkshire will provide full support to the NCA in order that the independent investigation I have asked for can be taken forward efficiently and effectively."
Trevor Pearce, of the NCA, said Operation Stovewood would have two stages.
---
Rotherham abuse scandal: Key dates
26 August: Professor Jay's report is published. Rotherham Council leader Roger Stone steps down with immediate effect
2 September: South Yorkshire Police commissions independent investigation into its handling of the Rotherham child abuse scandal
8 September: Martin Kimber, chief executive of Rotherham Council, announces he will leave his post in December
16 September: South Yorkshire Police and Crime Commissioner Shaun Wright resigns
19 September: Joyce Thacker, head of children's services at Rotherham Council, resigns
18 October: Home Affairs Select Committee calls for investigation into allegations files relating to the abuse scandal went missing
18 November: Communities and Local Government Committee call for a review of child protection systems across the country
---
The first will look at material held by South Yorkshire Police and other bodies relating to child sexual exploitation in Rotherham.
It will also review relevant investigations being carried out by South Yorkshire Police.
Mr Pearce said that would include "identifying any opportunities for early intervention to prevent further harm and to identify and arrest suspects."
The second stage of the operation, expected to begin in 2015, will involve a full new and independent investigation of child sexual exploitation in Rotherham.
The investigation is one of several inquiries to follow the Jay report.
Allegations of misconduct relating to police officers have been referred to the Independent Police Complaints Commission.
The government has also commissioned an independent inspection of children's services at Rotherham Council, which is being conducted by Louise Casey, the head of the government's troubled families unit.