Sheffield pensioner train protest charges dropped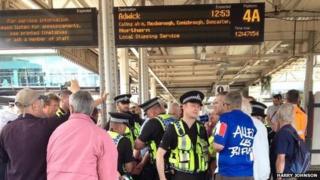 Charges against two men following a protest by pensioners at a railway station in Sheffield have been dropped.
George Arthur, of Church Street, Barnsley, 64, had been charged with obstructing a police officer and fare evasion following the protest in June.
Anthony Nuttall, 64, of Honeywell Grove, Barnsley, was also charged with obstructing a police officer.
British Transport Police said the Crown Prosecution Service had decided to discontinue the case.
A spokesman for the force said: "We respect the decision and, at this stage, will not be seeking to take any further action against Mr Arthur or Mr Nuttall."
The two men were involved with the Freedom Riders group, which wants free rail travel for the elderly to be restored in South Yorkshire.
They were arrested following a protest at Sheffield railway station on 23 June.