Rotherham child abuse scandal: Ex-council leader quits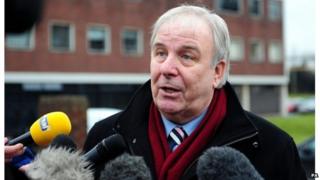 The former leader of Rotherham Council who resigned in the wake of a report into child sex abuse in the town has quit as a councillor.
Roger Stone stepped down as leader on the day Prof Alexis' Jay's findings were published on 26 August.
Her report found that 1,400 children were estimated to have been victims of abuse between 1997 and 2013.
Mr Stone, a Labour councillor for the Silverwood ward, had led the authority since 2003.
'Historic failings'
A spokesman for Rotherham Borough Council said that as Mr Stone had resigned within six months of the next election, his seat would remain vacant until a ballot was held on 7 May 2015.
He had continued to be eligible for his his basic allowance of £12,103 per year as a councillor, despite being suspended by the Labour Party pending an internal investigation..
Mr Stone was first elected in 1988 and was made an OBE in 2009 for services to local government.
Last year he announced the independent inquiry into child sexual exploitation in Rotherham, apologising unreservedly to young people who had been let down by safeguarding services that, before 2009, "simply weren't good enough".
He resigned with immediate effect in response to the inquiry's findings, saying: "I believe it is only right that as leader I take responsibility for the historic failings described so clearly."
Mr Stone refused to comment when contacted by the BBC.