Doncaster crash teenagers' inquests opened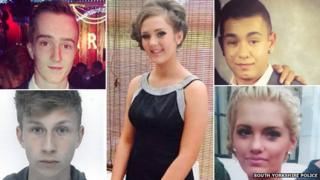 Inquests have been opened into the deaths of five teenagers following a car crash near Doncaster.
Arpad Kore, 18, Jordanna Goodwin, 16 and Megan Storey, 16, and Bartosz Bortniczak, 18, all died as a result of the two-car crash at Conisbrough.
Blake Cairns, 16, brother of Leeds United player Alex, also died in the collision on Saturday.
During a 15 minute hearing, Doncaster Coroner Nicola Mundy set a preliminary full inquest date for 20 April.
The bodies of the teenagers - four of whom were students at Danum Academy, Doncaster - have been released so that funerals can take place.
Mr Cairns and Mr Bortniczak - who had recently finished his studies at the academy - were pronounced dead at the scene of the crash, the inquest heard.
Ms Goodwin was taken to Doncaster Royal Infirmary where she was pronounced dead after she arrived and Mr Kore was taken to the Northern General Hospital, in Sheffield, where he was also pronounced dead.
The coroner heard Ms Storey was also taken to the Northern General but died the following day.
Ms Mundy said: "I extend my condolences for the loss the families have suffered in these most tragic circumstances."
A 21-year-old Doncaster man, who was driving a Vauxhall Corsa, was arrested on suspicion of causing death by dangerous driving and has been released on bail.
Officers believe the five teenagers in the Toyota met the driver at a McDonald's restaurant in Doncaster earlier in the evening.