Sheffield United patron Paul Heaton resigns over Ched Evans rape row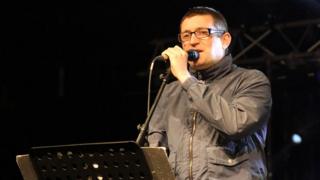 Musician Paul Heaton has resigned as patron of Sheffield United after the club's decision to allow convicted rapist Ched Evans to train.
The club said it had allowed Evans to train following a request from the Professional Footballers' Association.
Mr Heaton, the former Beautiful South singer, said he believed Evans had a "right to rebuild his career" but needed to "move away" from the Blades.
He is the fourth patron to resign over the club's decision.
Mr Heaton said: "It is with great regret that I announce my resignation as patron of Sheffield United Community Foundation.
"I firmly believe that Ched Evans has the right to rebuild his career in football but rebuilding a career should not involve walking straight out of prison and into the shirt of the club he so badly let down.
"I believe he needs to move away and move on, and the club itself needs to lift its reputation out of the gutter."
He said he planned to donate his fee from a forthcoming gig at Sheffield City Hall to Sheffield Rape Crisis Centre.
Evans was jailed in April 2012 for raping a 19-year-old woman in a hotel room in May 2011, having been found guilty by a jury at Caernarfon Crown Court.
At his trial, he admitted having sex with the woman but denied rape.
The former Wales international was freed last month after serving half of a five-year jail sentence.
Television presenter Charlie Webster, 1960s pop star Dave Berry and school food and health adviser Lindsay Graham, resigned as club patrons last week.
Evans has scored 59 goals in 167 appearances during spells with Manchester City, Norwich City and Sheffield United.
He has declined any request to be interviewed by the BBC, but released a video statement on his personal website in which he said he wanted to play again.