Rotherham waste firm guilty of corporate manslaughter fined £500K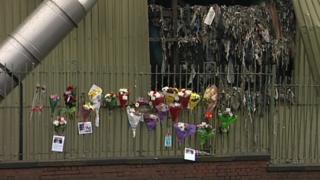 A South Yorkshire waste firm has been fined £500,000 after being found guilty of corporate manslaughter following the death of an employee.
Michael Whinfrey, 42, died at Sterecycle's Rotherham plant following an explosion in January 2011.
He suffered fatal head injuries after the door of an autoclave machine he was operating blew out under pressure.
Another man suffered "serious life-changing injuries".
A joint investigation, conducted by South Yorkshire Police and the Health and Safety Executive, found that the explosion resulted from the failure of a screw connection to the autoclave locking ring, which secured the door to the machine.
'Systemic failings'
South Yorkshire Police said the force of the explosion blew a hole in the factory wall.
Det Sgt Rob Platts, who led the investigation, said: "I am pleased with the verdict reached today as it recognises the systemic failings of a company who had a duty of care to its employees.
"The company was aware of a longstanding issue with the autoclave doors and made no effort to repair the problem properly, putting the lives of their employees at risk."
Kevin Goss, 57, a former maintenance manager at the company, was cleared at Sheffield Crown Court of perverting the course of justice.
Charges against two other men under Section 7 of the Health and Safety at Work Act were withdrawn during the trial.