Florence Shufflebottom: Staring at life down the barrel of a gun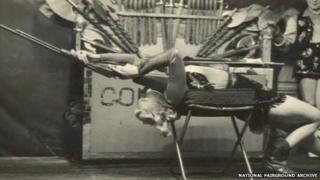 As mourners bury the woman known as the British Annie Oakley, a sharpshooter capable of knocking a pipe from between your lips while bent backwards over a chair, the question arises... How did a girl from Leeds with a self-confessed dislike of guns become a carnival crack shot?
You could say the Wild West was in Florence Shufflebottom's blood.
Her grandfather, William Shufflebottom, better known as Texas Bill, was a rider for legendary American showman William "Buffalo Bill" Cody.
Rumour has it Texas Bill travelled from the US as part of Buffalo Bill's show before settling down with a showman's daughter and opening up a show of his own in the UK.
Her father, Richard Shufflebottom, continued the family love affair with the Wild West, setting up the Colorado Family Troupe with his wife Laura and touring the fairgrounds of Britain.
Florence, born in 1931, was soon performing in the family show.
She was used as a target for her father's knife, axe and tomahawk throwing act and, from the age of five, performed as a snake-charmer.
Her final trick - named the Kiss of Death - was to place a snake's head inside her mouth.
But, it was her skills with a rifle that set Florence apart.
"My father wanted me to do the sharpshooting. I did not really want to do it because I did not like firearms then and I do not like them now, but I wanted to help my father, to make it easier for him. He trained me to do the shooting," she said prior to her death at the age of 82 last month.
"I used a Winchester .22 repeating rifle with live ammunition.
"I did various tricks. One was shooting a pipe bowl from my partner's nose [another was] shooting a pipe from my partner's mouth while bending backwards over the back of a chair."
She quickly developed a reputation as a gifted marksman and, combined with her skills as a snake-charmer, became an integral part of the family show.
Florence's flourishing popularity was given an extra boost when the Irving Berlin musical Annie Get Your Gun - the story of sharpshooter Annie Oakley - toured London's West End.
"The smash hit musical Annie Get Your Gun was on in the West End and I went to see it," Florence said.
"Of course with doing the sharpshooting, wearing the costume and Annie Get Your Gun being popular, I got a lot of publicity out of that because I was known as the British Annie Oakley."
However, her career as a sharpshooter came to an end after an accident during a show.
While attempting to shoot three pipes from between her mother's fingers she was knocked by a boy in the audience, the rifle went off and she shot her mother in the knuckle.
"I lost my confidence, I really did. I knew I could do it, but I did not enjoy it anymore," she said.
In 1957 Florence married Robert Campbell and together they continued to present shows.
When interest in their shows began to wane the couple turned to other ventures, including catering and running a bingo hall in Selby.
She treasured her family's rich history and in 1994 she and her husband, who had also grown up on fairgrounds, donated their family collection to the National Fairground Archive (NFA), based at Sheffield University.
Her son Garry said that despite her remarkable talent, his mother was surprised by her celebrity status.
"They actually billed her as the youngest snake-charmer in the country," he said.
"These things people look on as extraordinary, she never thought she had done anything extraordinary. She just went out and did the job she had to do.
"She never thought she was a pin-up, she never thought she was anything special."
Professor Vanessa Toulmin, director of the NFA, described Florence as "one of the most gifted performers ever to grace a fairground".
She said: "Florence's beauty and talent became renowned on the fairground and her marksmanship skill, her beauty and her ability to bring the crowds soon made her the star of the show."