Police and Crime Commissioner voter turnout lower than 2012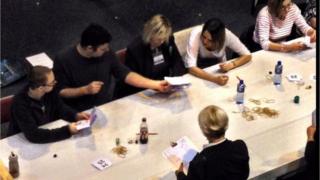 Fewer people have voted in the South Yorkshire Police and Crime Commissioner by-election than did so two years ago.
Counting has begun following Thursday's poll, called after the resignation of Shaun Wright amid the child sexual exploitation scandal in Rotherham.
The turnout was 14.88% this year, down from 14.93% in 2012.
Doncaster council chief executive, Jo Miller, said the turnout at the ballot box in the town was only 3.5%, with 11.7% postal votes.
Four candidates are standing in the by-election: David Allen, English Democrats; Alan Billings, Labour Party; Ian Walker, Conservative Party and Jack Clarkson, UK Independence Party.
The turnout in the Barnsley district was 11.9%, compared with 12% two years ago.
Turnout in Rotherham was up at 18.01%.