Continuous strike planned for city recycling centres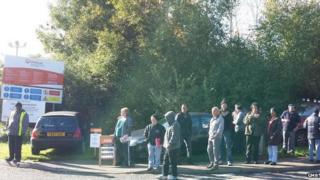 Union members are on strike at Sheffield's recycling centres in the eleventh day of industrial action since the start of October.
Two of the city's five sites, Deepcar and High Green, have been closed over the weekend.
The GMB Union said the strike was part of "continuing action" in a dispute over pay, bullying and inadequate toilet facilities.
The workers have already held 10 days of strike action since 1 October.
Peter Davies of the GMB said a continuous strike would start on Wednesday 29 October.
The Sheffield Council-owned sites are run by Veolia, which subcontracts to the Green Company - owned by charity Salvaire.
Veolia said: "The Green Company and the GMB have not yet been able to resolve their dispute. Veolia is continuing to support the Green Company and encouraging discussions so that issues can be resolved as quickly as possible."
Mr Davies said the dispute was over a failure to secure an agreement on weekend and overtime pay.
He said members wanted a "fair share of cash in this vital service" plus a decent toilet and somewhere to wash in the winter.
"We know the company can afford to provide these basic conditions but they will not budge," Mr Davies said.
Shirecliffe, Beighton Road and Blackstock Road are due to be open over the weekend.
Opening times for all sites reverted to winter hours (10:00-16:00 GMT) on 1 October.