English Democrat David Allen in South Yorkshire PCC bid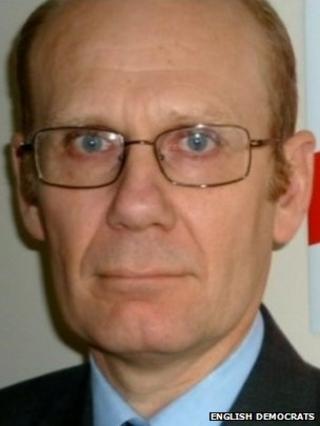 The English Democrats have announced their candidate for the post of South Yorkshire Police and Crime Commissioner (PCC).
David Allen, who stood against previous incumbent Shaun Wright in the 2012 campaign, will represent the party in the 30 October by-election.
Mr Allen is married with two children and lives in Doncaster.
UKIP, Conservative, Labour and UKIP candidates have previously been announced.
'Hunt down'
The by-election was triggered by the resignation of Mr Wright, who stood down as PCC after a report found 1,400 children in Rotherham were victims of child sexual abuse from 1997 to 2013.
Mr Wright had been head of Rotherham children's services between 2005 and 2010.
Mr Allen finished second in the 2012 PCC vote, receiving 22,608 of the 145,294 votes cast.
In 2013 he stood in the mayoral election in Doncaster, which was eventually won by Labour's Ros Jones, polling 4,615 first round votes.
Mr Allen said that if elected he would order the "hunting down and prosecuting" of those responsible for the abuse in Rotherham and also any councillors, officials, social workers or police officers who may be guilty of offences in relation to the scandal.
He said: "I promise if elected to listen to the public and try hold the police to account on their behalf, whilst supporting and defending them in their duty too."
The counting of votes for the PCC election will take place on 31 October.