Rotherham protest: Traders call for demonstration ban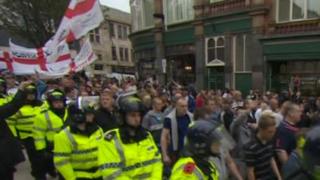 Traders in Rotherham have launched a petition calling for new laws to ban protests in the town.
The group Britain First is demonstrating on Saturday with about 200 people expected to march through the centre.
It is the third protest in the town after a report revealed that 1,400 children were subjected to sexual exploitation between 1997 and 2013.
Businesses claim footfall has been down by up to 90% during the demonstrations.
Last month, 1,500 police were drafted in as more than 1,000 people from groups including the English Defence League marched through Rotherham.
A week later another protest took place, this time organised by the British Muslim Youth, with about 300 people attending.
The demonstrations were as a result of a report on child sex abuse which described a majority of the perpetrators as men of Pakistani-heritage.
'Close the town'
Charlotte Scothern, owner of the Patchwork Pig gift shop on High Street, started the petition which asks for marches and demonstrations to be measured not just in terms of public safety but on "economic impact or reputation".
She said: "We're not saying there shouldn't be freedom of speech. We're not saying there shouldn't be a right to protest but there should be some sort of compromise.
"We've had so many rallies and protests, they virtually close the town centre."
Karl Battersby, Rotherham Borough Council's Strategic Director for Environment and Development Services, said: "These marches are just not welcome in Rotherham.
"On the whole, the people who attend these marches are not local to the area and subsequently have no stake or interest in the town.
"Instead they force ordinary members of the public to change their plans, leaving traders and businesses out of pocket.
"We acknowledge that any group has the right to peaceful assembly or protest and that only the home secretary has the powers to ban marches or procession, but there is also a limit to how a town of this size can cope with so many repeated marches."
Ch Supt Jason Harwin, of South Yorkshire Police, said: "We appreciate and understand the frustrations of local business owners with the volume of demonstrations taking place in Rotherham.
"We can only ban a march or procession where intelligence suggests serious violence or disorder could occur."
Police say Saturday's demonstration is expected to be "significantly smaller" than the others and there will be rolling road closures to keep disruption to a minimum.