PCC role: Two announced as South Yorkshire candidates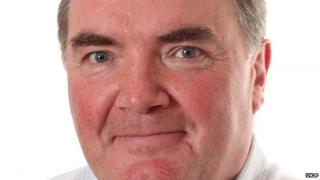 The first two candidates have been named for the post of South Yorkshire Police and Crime Commissioner (PCC).
Dr Alan Billings has been chosen to represent the Labour party, and Jack Clarkson is the UKIP candidate.
Dr Billings was deputy leader of Sheffield City Council from 1981-1986 at a time when former home secretary David Blunkett was leader. Mr Clarkson is a Sheffield UKIP councillor.
The 30 October election will find a replacement for PCC Shaun Wright.
Mr Wright quit as South Yorkshire's PCC after a report found 1,400 children in Rotherham were victims of child sexual abuse from 1997 to 2013.
He had been head of Rotherham children's services between 2005 and 2010.
Dr Billings is a former member of the Youth Justice Board for England and Wales, which oversees the work of the criminal justice system for the under-18s. He is a former member of the England Committee of the Big Lottery Fund.
He was formerly a parish priest in Sheffield and is currently director of the Centre for Ethics and Religion at Lancaster University. In the 1980s he was a councillor for Walkley ward.
Dr Billings said as PCC he would start to rebuild trust between the police and the community, and would "ensure that all instances of child sexual exploitation in Rotherham are fully investigated with perpetrators brought to justice, officials held to account and victims fully supported".
He said there must be "no complacency but also no witch-hunting".
Mr Clarkson is leader of the UKIP group on Sheffield City Council and a town councillor for Stocksbridge.
He joined South Yorkshire Police in 1976 and retired as an inspector at Deepcar in Sheffield in 2006.
He held a temporary post in Wath-upon-Dearne, Rotherham, during the 1984-5 miners strike.
Mr Clarkson said "a great deal of change" was needed within South Yorkshire Police.
"Only UKIP can guarantee that political correctness will not get in the way of investigating crimes, and only UKIP can promise one law for all," he said.
Steve Pick is currently the acting PCC for South Yorkshire.