Items stolen from Sheffield soldier Christopher Bridge's grave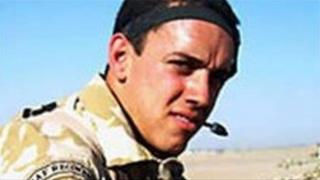 Mementos to a soldier who was killed in Afghanistan have been stolen from his grave in Sheffield.
Senior Aircraftsman Christopher Bridge, 20, was killed in an attack in 2007.
His mother, Nicolette Williams, said she is disgusted that statues and tributes have been stolen from the grave in Shiregreen Cemetery.
Sheffield City Council said thefts from graves were "despicable" and especially hurtful for the families of service personnel.
'Feel awful'
SAC Bridge was serving with C Flight, 51 Squadron RAF Regiment when he was killed in Kandahar province in August 2007.
His mother said the theft of the tributes and mementos reduced her to tears.
She said: "I just feel awful that he's dead, but I should still be protecting him and his things on his grave, but I wasn't there to stop the scum that took them.
"I don't know why they do it. They can see that he's a soldier.
"My son laid down his life for everybody's freedom and they've got the liberty to take what they want off his grave."
In a statement David Hargate, Sheffield City Council's head of parks and public realm, said: "It is despicable that anyone would steal from graves in any of our cemeteries and it must be particularly distressing for the families of those brave men and women who lost their lives in the service of their country.
"We were not aware of the thefts at Shiregreen Cemetery.
"We are unable to provide a security patrol of the cemetery, but the gates are closed each evening and there is a lodge tenant on site who keeps an eye on the grounds.
"We always advise families not to leave any items of any value on the graves."