Sheffield Children's Hospital's £40m new wing work starts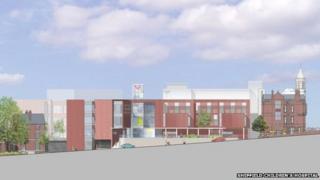 Work has started on a £40m new wing to provide Sheffield Children's Hospital with "world class" facilities.
The block will have three 24-bed wards - two surgical and one medical. It will also have a specialist burns unit.
Work on the development, on the Western Bank site, should take three years, according to the hospital.
The government is to provide half of the money with fundraising providing the balance, Sheffield Children's NHS Foundation Trust said.
The wing will include rooms for children who need to be isolated to prevent infections, such as bone marrow transplant patients, according to the trust.
Fundraising plea
The building will also include en-suite facilities to allow parents to stay with their child.
The trust said £3m of the total cost had come from community fundraising, with £7m still needed. A further £10m is being raised via national fundraising.
Sheffield Children's Hospital was first established in 1876 and has provided services under the NHS since 1948.
In 2013-14 it admitted almost 31,000 patients and more than 172,000 attended the hospital.
When fundraising for the wing was announced, David Vernon-Edwards, director of the Children's Hospital Charity, they site currently offered "world class care, but not a world class environment".