Rotherham EDL child abuse march costs police £750k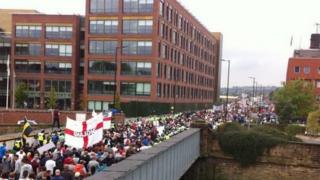 Update 6 May 2016: Of those charged, Thomas Bracken was later found not guilty. Vanessa Routledge, James Anderton, Steven Woodward, Daniel Holding and Pele Butcher were subsequently convicted of offences relating to the protest.
An English Defence League march through Rotherham cost police £750,000, South Yorkshire Police has said.
About 1,000 people demonstrated on Saturday in protest against news that at least 1,400 children were abused in Rotherham from 1997 to 2013.
Ch Supt Jason Harwin said his officers faced "serious violence", with missiles and steel barriers thrown at them.
Twelve people were arrested, with seven of them having now been charged with various offences.
Ch Supt Harwin said 1,500 police officers were on duty for the march, but despite "sporadic outbursts of disorder" the violence had been less than expected.
He said: "We got through the day with no serious disorder and no serious injuries."
'Shaun Wright out'
Protestors from various right wing groups marched from Rotherham town hall to the police station and council offices on Main Street.
Demonstrators chanted for South Yorkshire Police and Crime Commissioner Shaun Wright to stand down after revelations that police and councillors ignored reports 1,400 children in the town had been sexually exploited by gangs of men, predominantly of Pakistani origin, between 1997 and 2013.
Mr Wright, who was in charge of children's services in Rotherham from 2005 to 2010, has refused to resign.
Members of the National Front are thought to have taken part in the march alongside the English Defence League.
Ch Supt Harwin said police could not prevent such protests and marches taking place.
He said: "The challenge for us now is moving Rotherham on.
"We have to make sure people see a true picture of Rotherham, not what we saw on Saturday or over the past three weeks, but a cohesive community that wants to make people feel safe and that is safe.
Community protests
"We need to make sure that people do want to come to Rotherham for the right reason."
South Yorkshire Police said it was not aware of plans for more EDL marches, but that the local community intended to stage their own protests.
The seven charges were for public order offences, racially-aggravated offences, criminal damage to a mosque and assaulting a police officer.
Vanessa Routledge, 44, of Bridle Way; Steven Woodward, 38, of Station Road; and James Anderton, 37, of Park Mount, all in Rotherham, were charged with racially-aggravated public order offences.
Thomas Bracken, 19, from Hatherley Road in Rotherham and Daniel Holding, 24, of Bridges Street in Wigan were charged with public order offences.
Pele Butcher, 19, of Oliver Street in Rotherham was charged with criminal damage to Ridgeway Mosque.
A 17-year-old boy from Rotherham was charged with assaulting a police officer.
Rotherham Borough Council will face an independent inspection and South Yorkshire Police has commissioned an independent investigation into its handling of the abuse scandal.