Rotherham MP calls for officials to face prosecuted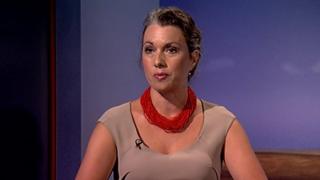 The MP for Rotherham has said criminal prosecutions should be considered for council officials and police officers who failed to prevent the sexual abuse of children in the town.
Labour's Sarah Champion said that people should not be allowed to resign and avoid any criminal charges.
A report published last month found at least 1,400 children were abused in Rotherham from 1997 to 2013.
The council and South Yorkshire Police were criticised in the report.
Speaking on the BBC's Sunday Politics programme, Ms Champion said that if negligence could be proven then legal action should be considered.
'Criminal level'
"Don't let them think that just by stepping down they have absolved themselves of responsibility for this," she said.
"For me they have been in a paid position, either in governance or directly to protect the children and if they have not done that they have failed so dramatically, then disciplinary [action should be taken].
"But if they have let them down on a criminal level then yes, we need to go forward with prosecutions."
Last week, Local Government Secretary Eric Pickles said Rotherham Council would face an independent inspection.
South Yorkshire Police has also commissioned an independent investigation into its handling of the abuse scandal.