Yorkshire Post site could get high-rise flats and offices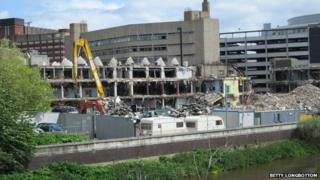 Four blocks of flats and offices rising to 16 storeys have been proposed for the former Yorkshire Post site.
The newspaper's old building on Wellington Bridge Street in Leeds is currently being demolished.
Architects have submitted a pre-application proposing four buildings containing office space and one and two-bedroom flats.
Each of the buildings would decline in height towards the east and step down towards the River Aire.
Three of the buildings would be for commercial use, with around 400,000 sq ft of office space, and drop in height from 13 storeys to eight.
Restaurants and bars
The residential building, with about 200 one and two-bed apartments, would be taller than the other three.
A mix of cafes, restaurants and bars are suggested for the ground floor underneath the office space, along with about 220 car parking spaces.
The Wellington Street offices were home to the Yorkshire Post and Yorkshire Evening Post for more than 40 years.
Opened by the Prince of Wales in 1970, it once housed more than 1,300 staff.
The pre-application will be presented to Leeds Council on Thursday.