£55m Sheffield flood defence plans to protect homes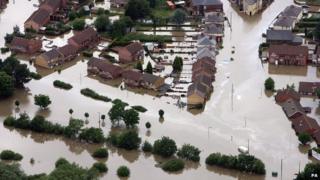 More than £55m is set to be spent on flood defences in South Yorkshire.
Plans for five new schemes have been announced by Sheffield City Council in an effort to prevent a repeat of floods seven years ago.
Around 6,000 households, 2,000 commercial properties and key transport routes are at risk of flooding over the next 50 years, the council has said.
Its cabinet is expected to agree business cases for the schemes should be put to the Environment Agency.
Work is already underway on a £19m scheme to improve defences in the Lower Don Valley.
The new schemes include £12m flood defence projects for the River Sheaf and Upper Don Valley.
A £2m scheme for Upper Blackburn Brook would benefit 233 households in the city.
A report to the council said: "The city council is determined to improve Sheffield's resilience to flooding by securing much needed investment in the city's critical flood and drainage infrastructure over the next few years."
Additionally, the council wants to carry out an £8m culvert renewal programme and spend nearly £3m managing surface water around redevelopment of social housing in the Manor and Arbourthorne districts of the city.
The River Don broke its banks in 2007, leading to the loss of two lives and millions of pounds worth of damage.
Hundreds of businesses and more than a thousand homes were flooded, while millions of pounds of damage was caused to city roads.
Sheffield City Council's cabinet will discuss the plans on Wednesday.