Rotherham child sex abuse files 'missing from archive'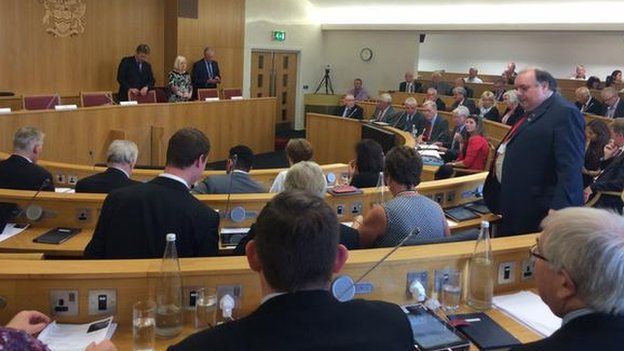 Key reports detailing child sexual exploitation have disappeared from the archives, the outgoing chief executive of Rotherham Council has told MPs.
Martin Kimber said he had not seen a full copy of a 2002 report, had never seen a 2003 report and only saw a 2006 report on Sunday.
A report published earlier this month found at least 1,400 children were abused in the town from 1997 to 2013.
The council was heavily criticised by Professor Alexis Jay.
In her report, Professor Jay said: "Further stark evidence came in 2002, 2003 and 2006 with three reports known to the police and the council, which could not have been clearer in their description of the situation in Rotherham."
Addressing MPs, Mr Kimber said he did not know whether the archives had been destroyed, but he told the Local Government Committee: "They are not within the council's archives."
Director of children's services Joyce Thacker told MPs the first two reports did not appear to have been referred to in any existing council minutes.
Asked whether there had been a "deliberate attempt to suppress information", she said she could not answer.
Meanwhile, Rotherham council announced plans to dissolve the cabinet and invest £120,000 in counselling services for victims of child sexual exploitation.
Deputy leader Paul Lakin said the money would come from cutting two cabinet posts and banning overseas travel by members.
Mr Lakin said he would begin choosing a new cabinet later.
The Labour councillor also announced he had asked the Local Government Association to establish an "independently-chaired improvement board".
The board would include a serving or recently retired chief executive and director of children's services, and an external peer of each of the parties represented on the council - Labour, Conservative, UKIP and independent.
At the start of the meeting the Mayor of Rotherham, Councillor John Foden, apologised to victims and their families.
The council has also approved an emergency motion calling for the Police and Crime Commissioner for South Yorkshire Shaun Wright to resign.
Mr Wright, who was cabinet member for children's services in Rotherham between 2005 and 2010, has faced repeated calls to stand down including from Prime Minister David Cameron and Labour leader Ed Miliband.
Mr Wright is to face a meeting of the county's police and crime panel on Thursday.
He said: "I believe that new leadership will enable the town to recover more quickly from the events of the last two weeks, and strongly signal a new beginning at this critical time in its recovery."
Related Internet Links
The BBC is not responsible for the content of external sites.