Sheffield artist's work shown for first time since his death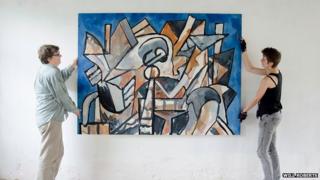 When Sheffield artist Gordon Snee died, it fell to daughter Jo to clean out his studio.
What she found amazed her - more than 300 pieces ranging from huge canvases to small sketches.
Despite being a prolific painter, Gordon rarely exhibited his work and this huge collection had lain unseen, even by his family.
Now some of those paintings are being displayed for the first time at an exhibition in Kelham Island in Sheffield city centre.
Jo is curating and co-organising the exhibition.
She said: "This exhibition is a big step in our goal to promote my father's work to the wider public and for it to gain the recognition it deserves."
Craig Humble, who has a background in art history and is Castle Galleries' area sales manager for the north region, called Snee one of the "lost painters" of the post-war period.
He said: "At the very point when his years of artistic commitment and integrity should have been blossoming into recognition during the 1980s, painting became the most unfashionable of the arts.
"I personally wonder whether the British paintings of the 1980s will one day be rediscovered, much like Pre-Raphaelite art was many generations after its creation.
"You never know, but the unearthing of 300 works by one of these unsung heroes may be enough of a catalyst to re-examine the lost years of British painting."
The exhibition opens at 18:30 on Friday, and can also be viewed from 10:00 to 18:00 on Saturday and Sunday.