Nether Haugh crash count falls amid calls for cameras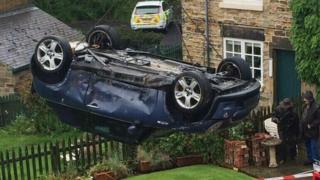 The number of crashes in a village plagued by accidents has dropped, but locals say there are still too many.
Between January and May, there were 25 accidents on the B6089 in Nether Haugh near Rotherham. There have been just five since.
But residents say drivers are still coming through the village too fast.
Traffic calming measures introduced in July appear to have helped reduce crashes, but residents want more measures put in place to slow cars.
Camera plea
A speed indicator sign has also been put up, but Steve Challinor, chairman of Nether Haugh Community Partnership, said cars were still going too fast.
"It's not enough," he said. "They're not addressing the problem which is the speed of the vehicles that are coming through.
"A speed camera is one of the things we've asked for, but we have to meet a certain criteria. Someone has to die or suffer life-changing injuries before anything is done about it."
However, Rotherham Council believes its current measures will work.
Engineer Stuart Savage said: "In July, high friction surfacing was implemented around the bends at both ends of Nether Haugh, together with improvements to road markings and signage.
"This followed a study that considered the collision record, vehicle speeds, existing road layout and the options available for making improvements in the village.
"Based on the study and experience at similar locations it is expected the remedial measures will reduce the number of collisions, particularly on the bend near the junction with Daniel Lane where most of the recent collisions have occurred."
Mr Challinor added: "The high friction resurfacing appears to have worked for the time being, but time will tell."