Stabbed boxer Kell Brook 'stable' after Tenerife operation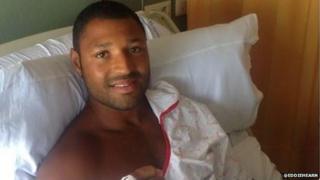 World boxing champion Kell Brook is "stable" in a Tenerife hospital following a major operation after being stabbed in the leg while on holiday.
The 28 year old from Sheffield "lost a lot of blood" in the stabbing during the early hours of Thursday, said a spokeswoman for Spain's Guardia Civil.
Brook said he was the victim of an "unprovoked attack" during a night out.
The IBF welterweight champion will spend the weekend in hospital before returning to Sheffield on Monday.
In a statement issued from his hospital bed, Brook said: "I'm devastated right now after being on such a high having achieved my dream of becoming world champion in Los Angeles last month.
"This is obviously a major setback but the thought of defending my title is what's keeping me positive right now... make no mistake - I will be back."
Brook's parents flew out to Tenerife on Thursday night and his promoter Eddie Hearn arrived on the island on Friday.
Mr Hearn said: "His first defence was planned on December 6 which is now unrealistic but we fully expect Kell to be back in the ring early next year."
'Switched on for fighting'
Brook's trainer Dominic Ingle told BBC Radio Sheffield the fighter's pregnant partner Lindsey - who had been out with Brook earlier in the evening of the stabbing - had been unable to visit him in hospital on Thursday.
"I've been in touch with Lindsey this morning. Yesterday police were all over their apartment and she didn't have access to him. By the time she was allowed out of the apartment, visiting hours were closed," he said.
"Kell's on holiday in Tenerife. For 16 weeks he was switched on for fighting. After a fight you want to relax, switch off. You let your guard down and innocent situations can turn rapidly into something else if you're not careful."
No arrests have been made in connection with the stabbing.
Brook won the IBF welterweight title when he beat American Shawn Porter in California last month.
The victory stretched his unbeaten professional record to 33 fights.
Brook was also stabbed in Sheffield in 2007.