Rotherham prayer services held for child sex abuse victims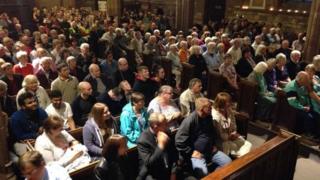 About 600 people have attended a series of prayer meetings in Rotherham held for victims of child abuse.
Last week a report revealed more than 1,400 children were sexually exploited and abused in the town from 1997-2013.
Members of churches across the town attended gatherings at Clifton Park and Main Street before a special service at Rotherham Minster on Thursday evening.
Reverend Simon Copley, of Greasborough United Church, said the crisis had to be tackled by the whole community.
He said: "I think this [prayer meeting] is the first step in a long journey.
"The victims and their families are our first concern at the moment and we hope... to stand alongside them in any way we can.
"We've got some very serious issues to deal with, some very serious questions to ask and that's going to be tough.
"But we also need to create a climate of trust, friendship to other community groups, support of each other across the whole of Rotherham, and we think prayer is part of doing that."
David Woods, a member of the congregation, said: "I've come here because there's a lot of darkness in the town, and tragedies have happened on all sides of the communities. So it's just to pray for a bit of light into this darkness."