Doncaster airport incident: Jetstream 31 landing gears had failed before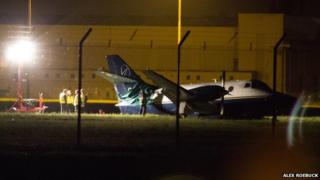 An aircraft affected by a landing problem at Doncaster airport, forcing it to close, was involved in a similar incident before, a report has found.
Doncaster's Robin Hood Airport was closed overnight on 15 August after the left main landing gear of a Jetstream 31 plane collapsed when it landed.
Investigators said stress corrosion cracking at the top of the landing gear leg had initiated the collapse.
The aircraft's right main landing gear failed in the same way in March 2012.
In a special bulletin, the UK Air Accident Investigation Branch (AAIB) has called for safety checks following its preliminary findings.
'Not effective'
The plane, operated by LinksAir, slid along the runway at the South Yorkshire airport and came to rest on the adjacent grass, with the single passenger and the two crew members able to get out unhurt.
It had been on a scheduled flight from Belfast City Airport.
In its report, the AAIB said when the same aircraft experienced a similar problem while landing at Isle of Man airport in 2012, it had led to a safety recommendation to the European Aviation Safety Agency (EASA) concerning the identification of cracks on landing gears fitted to Jetstream 31 aircraft.
The 12 passengers and two crew were unhurt in the Isle of Man incident.
The AAIB report said that given the similarities of last month's incident to the one in 2012 "it is evident that the inspections of, and the modifications to, the left main landing gear of G-GAVA [the BAE Systems Jetstream 31] were not effective in preventing this accident".
The AAIB said its investigation into the Doncaster incident was continuing.