Ex-chief constable Mike Hedges 'unaware of Rotherham child sex abuse'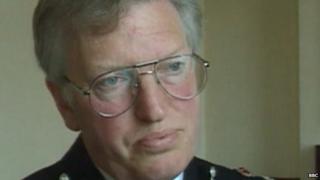 A former police chief has said he was completely unaware of the systematic sexual exploitation of children in Rotherham during his time in charge.
Mike Hedges, who was the chief constable of South Yorkshire police from 1998 to 2004, said the issue was never brought to his attention.
Mr Hedges told the BBC Radio 4 Today programme the first he heard of the abuse was on the news.
A report last week said hundreds of children were abused from 1997 to 2013.
'No recollection'
Mr Hedges said: "When I first saw this on the news, that was the first inkling that I had that there had been systematic abuse of this nature in Rotherham.
"Certainly I have no recollection of this coming to the notice of my senior command team during my time in the force."
A report last month by Professor Alexis Jay concluded that at least 1,400 children were sexually exploited in the town over a 16-year period.
However, Mr Hedges said he had no recollection of receiving letters said to have been sent to him in 2001 and 2003 raising concerns about the issue.
He has rejected suggestions of incompetence.
'Most uncomfortable'
He added: "Incompetence suggests that there was a total disinterest or knowledge that was in my hands that I didn't deal with properly.
"To my recollection, nothing of that nature was brought to me either by my commander or by the other agencies that had a number of different fora in which they could have raised these issues with me."
When asked whether he bore some responsibility for what happened in Rotherham during his time in charge of the force, Mr Hedges said: "Of course I do. I was the chief constable.
"It was happening when I was there so of course I feel most uncomfortable and disappointed that we didn't pick up these signals and run with them."
'Deep regret'
Meanwhile, there were angry scenes as Rotherham Council met to discuss the sexual exploitation of youngsters in the town.
Addressing the meeting Paul Lakin, deputy leader of the council, said: "We have all been appalled by the terrible contents of this report.
"It is with a deep sense of regret that we are here today to discuss how, in the past as a council, we badly let down young people and families we were here to protect."
Some 40 members of the public packed into the small council chamber in the Town Hall.
The meeting started with questions from the public, with many applauding and cheering as one woman shouted: "We are very angry and we don't know why all of you haven't resigned."
Martin Kimber, chief executive of the council, also repeated his apology to the victims of child sexual abuse.
He said: "There is no one more determined than me to ensure that people who commit vile criminal acts are brought to justice."
But he also said he believed the Jay Report showed the council's services were now "fit for purpose".
---
Analysis
Tom Ingall, BBC Look North, in Rotherham
There can't be many times Rotherham has needed crash barriers outside the Town Hall to control those wanting to go to a council cabinet meeting.
Once inside member of the public in the gallery were vociferous in questioning and criticising the assembled councillors and executives.
One said: 'We are very angry, Why haven't you all resigned?'
The 'R' word rang around the chamber several times. It was perhaps matched only by the number of apologies offered by the deputy council leader (the leader resigned last week), the Chief Executive and various members of the cabinet.
The failures were "inexcusable and unacceptable" they admitted.
There were reassurances that services are now fit for purpose but a recognition that it will provide little comfort to the estimated 1400 victims identified in the report into Child Sexual Exploitation in the town released last week.
---
Following the meeting Ged Fitzgerald, who was chief executive of Rotherham Council between 2001 and 2003, said the publication of Prof Jay's report had "raised questions" about his tenure.
Mr Fitzgerald, who is now the chief executive of Liverpool City Council, said he would be discussing the matter with his current employers in the coming days.
He said: "I endorse the calls being made for a public inquiry and will continue to assist voluntarily and openly any investigation, review or public inquiry into this extremely serious matter."
Med Hughes, who was the chief constable of South Yorkshire Police between 2004 and 2011 said: "As Deputy Chief Constable and Chief Constable of the force for the greater part of the time covered by the report, I would like to offer my sincere personal apology to the victims of abuse and their families.
"I hope those who know me would also know that I would never cover up such abuse, or refuse resources to deal with it if asked."
Elsewhere, neighbouring Sheffield City Council passed a vote of no confidence in the county's police and crime commissioner Shaun Wright.
Councillors voted unanimously during a full council meeting in the city.
Mr Wright, who managed children's services in Rotherham between 2005 and 2010 before taking up his current £85,000-a-year post, has resisted calls to stand down from a range of people including Prime Minister David Cameron and Labour leader Ed Miliband.
Ahead of the meeting, Mr Wright issued a statement which said the report's findings were "not about one person or one organisation".
"These findings are about taking a multi-agency approach to dealing with bringing the perpetrators of these heinous crimes to justice.
"I've had many messages of support, many of which are from partners, encouraging me to remain and to continue my work on prioritising and tackling the extremely important issue of child sexual exploitation.
"I'm sure that all partners involved in tackling this issue will work with me to do just that for the sake of past victims and for the sake of safeguarding potential future victims."
---
Suspending a police and crime commissioner
Under the legislation that created the roles in 2012, a PCC can only be suspended if:
(a) the commissioner has been charged in the United Kingdom, the Channel Islands or the Isle of Man with an offence, and
(b) the offence is one which carries a maximum term of imprisonment exceeding two years.
---
Speaking at Prime Minister's Questions, Mr Cameron said: "What we've seen in Rotherham is deeply shocking.
"And as I've said, I think it demonstrates a failure in the local government system there, in the Children's Services department and in policing and all those issues need to be addressed, which is why I've asked the home secretary to chair a group of minsters to look at how we learn the lessons even before we get our child abuse enquiry fully under way.
He went on to say that social services bosses should face the sack if they fail to protect children from abuse.
Responding to a question from Diane Abbott, Labour MP for Hackney North and Stoke Newington, he said: "Where I think you are absolutely right is that local authorities when they employ these people should look carefully at their contracts and make sure if people don't do the job properly they can be removed. It's absolutely vital."