Rotherham child abuse scandal: New victims come forward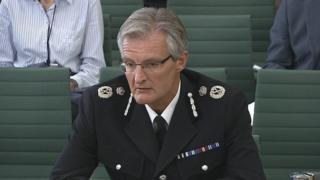 Twelve new victims have made allegations of child sexual abuse in Rotherham since a report found at least 1,400 children were abused, police say.
South Yorkshire Chief Constable David Crompton revealed the new cases as he gave evidence to a Commons committee.
Earlier, Home Secretary Theresa May said the government was considering carrying out an inspection of Rotherham Council in the wake of the scandal
A report last week said hundreds of children were abused from 1997 to 2013.
Mr Crompton, who earlier announced he had commissioned an independent inquiry into South Yorkshire Police's handling of the scandal, was giving evidence to the Home Affairs Committee.
Mr Crompton said he now had 62 officers dedicated to dealing with child sex abuse, compared with three in 2010 and eight in 2012.
He told the committee 104 convictions had been secured since the start of 2013, while 40 more suspects were on bail.
South Yorkshire Police is conducting nine "multiple victim, multiple offender" investigations, including two in Rotherham, he said.
However, he was unable to give direct answers about specific failures highlighted in Professor Alexis Jay's report, including why an 11-year-old victim was arrested and why an officer described the rape of a 12-year-old girl by several men as "entirely consensual".
Mr Crompton was asked to return with detailed answers next week.
Asked if would be "leaving his post", or staying he said: "Absolutely [staying]. The report concludes that things have been much better recently and we can continue to improve on that."
Speaking in the House of Commons earlier Mrs May said Communities Secretary Eric Pickles was "minded to use his powers under the Local Government Act 1999 to commission an independent inspection" of the council.
She said Mr Pickles shared her concerns of "inadequate scrutiny by councillors, institutionalised political correctness and covering-up of information and the failure to take action against gross misconduct" in Rotherham.
Rotherham Council has welcomed the proposed inspection, adding it had "already intended to ask for a similar inspection by an independent body" and would "fully co-operate with the government".
The council's cabinet is due to meet on Wednesday to discuss the Jay Report on child abuse.
'Horror and shock'
Sandra Moule, of Rotherham Women's Counselling Service, said the revelations about the scale of the abuse had "further traumatised" some of the victims, adding that the service already had a six-month waiting list.
"We already have people that are currently in counselling that are part of the 1,400 that's been in the media," she said.
"Some of our clients have found themselves being further traumatised by the whole horror and total shock of how wide a scale this has been.
"It's impacting on the team, it's impacting on the workload; the phones have never stopped ringing. It's extremely difficult at the moment."
MP Barry Sheerman, who chaired the Commons Children, Schools and Families Committee - now the Education Select Committee - between 2007 and 2010, said he felt "guilty" about the Rotherham abuse scandal.
The Labour MP for Huddersfield said MPs were aware vulnerable children were being sexual exploited "up and down the country".
He said: "We knew about that, we didn't do enough about it. Members of this house, many of us, knew what was going on."