Mystery hole in ground halts Sheffield tram services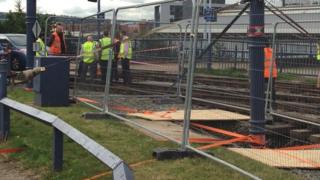 Tram services in a part of Sheffield have stopped temporarily after a hole opened up near a track.
Services on two routes between Sheffield station and the city centre have been suspended after the hole was discovered in the embankment near the track close to Park Square.
Operator Sheffield Supertram said it had stopped services as a precaution until experts assessed the problem.
It said it was not yet known what caused the hole to open.
The company said other tram services were unaffected and running as normal.
Passengers travelling on the affected routes would be able to use their tram tickets on the Stagecoach 120 bus service, the operator said.
In a statement, Sheffield Supertram apologised for any inconvenience caused by the problem.
"Although the problem is not with the tram infrastructure itself, due to its proximity to the network it had the potential to affect the safe running of this part of the Supertram system," said the firm.