Rotherham abuse: Ed Miliband says child abuse inquiry 'delayed too long'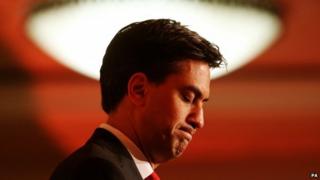 A government inquiry into child abuse "needs to get moving" in the light of the "devastating" Rotherham scandal, Labour leader Ed Miliband has said.
A report on child sexual exploitation has found at least 1,400 children were abused in Rotherham from 1997-2013.
The Home Office inquiry into how public bodies have handled child abuse claims was delayed when Baroness Butler-Sloss stood down as its chair in July.
Mr Miliband said it had been "delayed too long".
Professor Alexis Jay's report, published on Tuesday, found children as young as 11 were raped by multiple perpetrators, abducted, trafficked to other cities, beaten and intimidated.
The report found there had been "blatant" collective failures by the council's leadership and South Yorkshire Police had failed to prioritise the issue.
Rotherham abuse
1,400
children were abused, 1997-2013
1/3 of victims were already known to social services

157 reports concerning child sexual exploitation made to police in 2013

10 prosecutions were made between 2013 and April 2014
Getty
In a statement Mr Miliband said: "The case now is overwhelming for the Government to get an overarching inquiry into child abuse up and running.
"We have seen scandals of child abuse in different institutions, in different parts of the country and stretching across different decades.
"An overarching inquiry has been delayed too long and needs to get moving as fast as possible to start listening to all those who have been let down by a system set up to protect them."
Theresa May announced on 7 July that an independent inquiry would be held to investigate the way public bodies handled historical child sex abuse allegations, but a new chairman has not yet been announced to replace Baroness Butler-Sloss.
A Home Office spokesman said: "We have to get this appointment right and we need someone at its head with gravitas and experience.
"We are working as quickly as we can on this, and we will announce a new chair as soon as possible."
'Weren't seen as victims'
Mr Miliband also echoed calls for South Yorkshire Police and Crime Commissioner (PCC) Shaun Wright to step down.
Mr Wright, who was Rotherham Council's cabinet member for children and young people's services from 2005-2010, resigned from the Labour Party earlier this week but said he remained committed to his role as PCC.
Meanwhile the Labour MP for Rotherham, Sarah Champion, said the victims of sexual exploitation "deserve personal apologies".
She said one of the most upsetting parts of the report was that babies born to some victims were taken away from them.
Prof Jay's report said a number of sexually exploited children and young people had "pregnancies, miscarriages and terminations".
"Some had children removed under care orders and suffered further trauma when contact with their child was terminated and alternative family placements found," she said.
Ms Champion said: "That some babies born to the victims as a direct result of such horrific abuse were taken away and never seen by their mothers again speaks volumes about the way these children weren't seen as victims at all.
"I intend to press the council to find out what work is being done to identify both mothers and their babies, and the counselling support being offered.
"The victims involved deserve personal apologies."