Rotherham child abuse scandal: 'The safety net has failed massively'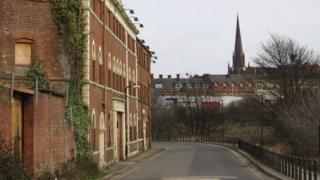 The news that more than 1,400 children were sexually exploited in Rotherham between 1997 and 2013 has sent shockwaves across the country.
In Rotherham that shock has manifested itself as disgust at the scale of abuse, despair at the apparent ignorance of the council and police, and fear for the town's future.
As day broke over the town's bus station a street seller shouted "Big Issue, Big Issue" - and for those who were making their way to work there was just one big issue on their minds.
At the railway station, in the market, outside the Town Hall and on the streets, the people of Rotherham - a town with a population of about 257,000 - were struggling to comprehend the findings of Professor Alexis Jay's report.
Penny Wortley, who was among the early morning bargain hunters at Rotherham Market, asked: "How did people not know?"
The 68-year-old, from Rawmarsh, said: "I just can't seem to get my head around it. I can't see how this could have gone on for so long and nobody did anything.
"I've got daughters and grandchildren of my own. It's just frightening."
One fellow shopper, who asked not to be named, welled up as she attempted to put her thoughts into words.
She said: "I'm speechless. It just breaks my heart.
"I know a lot of people say a lot of bad things about Rotherham, but, like anywhere there is both good and the bad. There are some wonderful people, but then there's the other side."
Sitting at a market stall, watching the traders lay out their wares, Brian Williams, 71, said: "I was disgusted.
"I can't believe it's happened over that period of time. It is totally unacceptable. Whether it's one, or 100 or 1,000 it just should not happen."
Mr Williams was one of many people in Rotherham to call for heads to roll at the council, at South Yorkshire Police and in the office of South Yorkshire's Police and Crime Commissioner Shaun Wright.
He said: "You can't just click your fingers and hope it will go away. It all needs to be thrashed out.
"We need a clean sweep across the board. They were supposed to be looking after these people.
"I think personally that Shaun Wright should go. He's got some answering to do and I think he should go. Whether he will or not that's another story."
School governor Victoria Draycott said she was "disgusted" when news of the scale of the abuse broke on Tuesday.
The 43-year-old said: "I feel let down for the children. Everybody who should have been there to support them has let them down. The safety net has failed massively.
"The police and the council should be held to account. They should be made to say where they have failed these children. What reason would they have? Even lack of finances or time is not a good reason.
"As a school governor one of the biggest things is safeguarding children - it's the biggest thing. If your child is not safe they can't learn and grow.
"To fail them on absolutely every level is abhorrent."
At the railway station Sophie Khan, 19, said Rotherham no longer felt safe.
She said: "I find it disgusting. What kind of a town is it if you do not feel safe in your own community?"
Fellow passenger John Owen, 38, said he was surprised by the volume of cases but not shocked to hear of abuse in the town.
He said: "Just growing up around here at night I would see gangs of men with young girls but I did not really think about what might be going on.
"I should say I'm shocked, but I'm not really.
"The worst thing about it is the council keeping quiet."
Prof Jay's report said that "the majority of perpetrators were described as 'Asian' by victims".
The inquiry team noted fears among council staff of being labelled "racist" if they focused on victims' descriptions.
A short distance from the town hall 27-year-old Faizan Tanveer, who recently moved to Rotherham, echoed the sentiments of the town's residents.
He said: "It's very hard to believe that in this country this is happening.
"This could happen in remote areas in Pakistan where education is low but you do not expect to see that happening here...
"The police and the council should have concentrated on that and taken action as soon as they knew about it."
Bank worker Shoki Adbo, 21, said:"It's disgusting. It's horrible. It makes you think 'What happens when you have kids?' You would be scared to let them go out in Rotherham.
"I'm a Muslim and if I saw a Muslim person doing something like that then they would not be a Muslim to me. In Islam we do not teach people to rape and abuse children."