Polar bear father of ten Victor retires to Yorkshire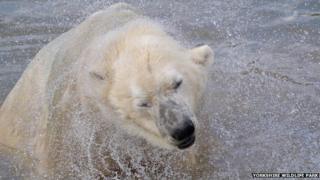 A 15-year-old polar bear who sired 10 cubs as part of a breeding programme has retired to an enclosure in South Yorkshire.
Victor, who weighs 1,058lb (480kg), was unveiled at Yorkshire Wildlife Park in Doncaster, making him the only polar bear currently in England.
A new 10-acre facility has been set up for Victor, who the park claimed is the "most prolific breeder" in Europe.
He has been retired to reduce the risk of inbreeding.
The European Association of Zoos and Aquaria (EAZA), which operates the breeding programme Victor took part in, said 10 cubs was a "significant number".
John Minion, Yorkshire Wildlife Park chief executive, said: "We offered him a home as we've just built this specialist enclosure which is the biggest in Europe at the moment."
"He has settled in the easiest out of all the animals I've worked with.
"Within 10 minutes of being here he had settled down, he was in his house, eating his food, having a drink and it was like he had been here all his life."