Sheffield half marathon water firm agrees charity payout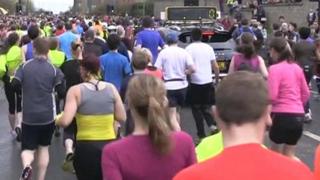 A firm accused of causing the cancellation of a Sheffield run by failing to provide water to the race has agreed to make a charity donation.
The Sheffield Half Marathon was abandoned on 6 April, but many of the 4,100 runners waiting at the start line ran the race anyway.
The organisers said they were "let down" by Water Direct who failed to deliver water supplies.
The firm claimed they had not been paid for the order by the race organisers.
A statement issued by the Sheffield Half Marathon said that they and Water Direct "have reached an agreement in conclusion of all matters arising under which a contribution will be made to The Sheffield Marathon Limited for distribution to each of the nominated charities".
The size of the donation has not been revealed.
The race has been held for the past 33 years and raises money for a number of South Yorkshire charities, including the Bluebell Wood Children's Hospice.
In June, the members of the organising committee resigned claiming they had received abusive emails, calls and letters.