Violence at HMP Doncaster 'four times greater' than other jails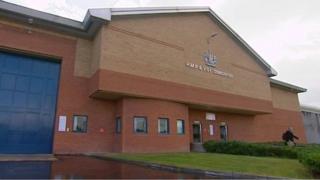 There are four times as many violent assaults at a privately-run prison in South Yorkshire than at similar jails, inspectors have found.
An unannounced inspection of HMP Doncaster, which is run by Serco, found it was a "prison in decline".
As well as high levels of violence, HM Inspectorate of Prisons found a substantial drugs problem.
The National Offender Management Service said Serco had taken "immediate action" in response to the findings.
'No running water'
HMP Doncaster is a category B prison with more than 1,000 inmates, and has been operated by Serco since 2003.
Inspectors said many of the prisoners they spoke to felt unsafe and "staff did not appear fully in control of some wings".
"On the wing where a disturbance had taken place immediately before the inspection, prisoners were located in damaged cells," the report said.
"Staff and prisoners told us that some prisoners had been locked in cells with no running water or electricity for more than two days."
'Drug-infested prison'
But the prison had made improvements since the last inspection in 2010 to promote equality and diversity, and there was a wide range of "high quality" work on offer to prisoners.
Nick Hardwick, chief inspector of prisons, said: "Despite some positive features, Doncaster was a prison with much that had to be put right, some of it urgently."
Michael Spurr from the National Offender Management Service said: "Serco took immediate action in response to the inspection findings - strengthening the management team, prioritising safety and implementing a comprehensive improvement programme."
Frances Cook, chief executive of the Howard League for Penal Reform, said: "Prisons in the public sector have been hit by deep budget cuts which have impacted on safety, but Doncaster does not have that excuse.
"Serco's board should be made to explain why this violent, filthy, drug-infested prison is failing so miserably."