Second prisoner on run from Hatfield prison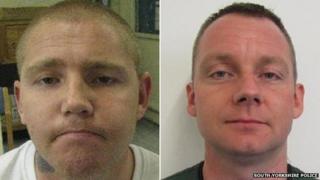 A prisoner has gone on the run from HMP Hatfield - the second to do so in the space of a week.
Ian Stirzaker, 35, failed to return to the Doncaster prison on Sunday 10 August following day release.
Stirzaker, originally from Bradford, was sentenced to 90 months in prison for grievous bodily harm at Bradford Crown Court in July 2011.
Fellow Hatfield prisoner John Byrne has still not been found after leaving the prison on day release on 2 August.
During May and June six other men fled HMP Hatfield. Five have been re-arrested.
Mounir Jaouane failed to return from temporary licence on 30 June and has not yet been traced.