Darnall parish of Church of Christ hopes for 'lost' war memorial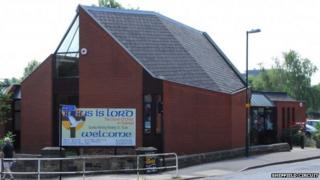 Parishioners from a church in Sheffield are hoping a memorial to soldiers who died in World War One, which was put into "safe keeping", can be found.
The marble memorial, which was mounted in a wooden frame, had been in Holy Trinity Church on Station Road in Darnall.
But when the building was pulled down decades ago, the memorial was removed.
Now worshippers at the Church of Christ, built on the same site, are trying to locate the plaque.
William Buttrick, the editor of the parish magazine is one of those trying to find the memorial.
He said: "It was put into safe keeping, so safe that no-one knows where it is.
"We've got the list of names of those soldiers who died and we could get a new memorial, but we really want to find the original.
"It was paid for by donations of the people of Darnall, that's as much as we know, we can't even locate a picture of it."
Mr Buttrick said anyone who might be able to help find the memorial, should contact him.