Heavy rain closes Barnsley's bus station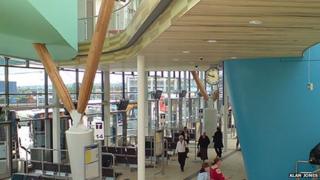 Structural engineers are assessing the bus station at Barnsley after torrential rain left the roof in danger of collapse.
Heavy rainfall on Friday caused flooding in the area and damaged the building.
Buses in the town are using stops nearby and train services are unaffected.
Officials said the priority was to keep people safe until the damage to the structure had been rectified.
David Young, of the South Yorkshire Passenger Transport Executive, said he did not want people being put at unnecessary risk.
'Safety concerns'
He said: "Last night we had huge deluges of rain in Barnsley, the like of which we've never seen before.
"The roof space is right above the seating area where people wait for the buses.
"With the amount of water sitting in the roof spaces we're concerned for the safety of people underneath - just in case panels fall out."
Mr Young said although there was insurance on the building (to allow repairs) the priority was keeping the transport system moving.
He added: "Of course we do carry insurance - how it's afforded has to be sorted out later.
"The key thing is we have to sort the problem and get buses back in the interchange where they should be and the public back.
"We can only do that when it is safe."