Man sets fire to house while trying to get rid of ants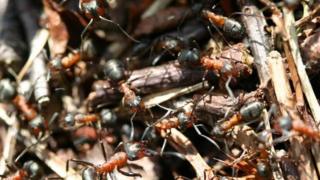 A man set fire to his house trying to get rid of some ants in Rotherham.
The man doused an ants' nest in petrol before setting it alight, South Yorkshire Fire and Rescue said.
Flames quickly spread along a garden hedge before the man's house caught fire, melting plastic guttering, a plastic window frame and a garden chair.
A fire service spokesman said: "Using petrol to eliminate an ants' nest has to be a first for us."
The fire started at about 20:00 BST on Thursday.
The spokesman added: "We always tell people never to use petrol or other accelerants to get a fire going.
"The incident is a classic example of how even a small fire can so quickly develop into a much more serious incident."