Father injured baby son in Rotherham hospital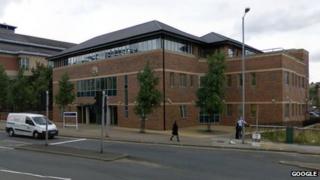 A man who injured his infant son in hospital has been banned from seeing the child after a judge ruled he posed "a very real risk" to the boy.
Sheffield Family Court heard the baby was taken to hospital in December where injuries resulting from "forceful shaking" were discovered.
Four weeks later, while still in hospital and under his father's care, the boy suffered bruising to his head.
Judge Annabel Carr QC rejected the father's claims he was not responsible.
The child, who cannot be named for legal reasons, was admitted to Rotherham District Hospital where he was initially treated for an infection, but scans later revealed a brain haemorrhage and other injuries.
A consultant paediatrician told the court the injuries were due to "non accidental trauma caused by forceful shaking and/or impact".
'Real danger'
On 21 January the child suffered extensive bruising overnight at the hospital while in the care of his father, known only as "F".
The father said he had tripped and dropped the child accidentally, but an expert said that account of how the injuries had occurred was "not possible".
Judge Carr said during the hearing she found the father's evidence to be "neither credible nor reliable".
She said: "I reject entirely F's explanation for what occurred on 21 January and it strengthens the fact that I am satisfied well beyond the balance of probability that the injuries inflicted on 18 December could only have been caused by F, just as it is accepted that the injuries seen on 21 January occurred whilst [the child] was in F's sole care and could only have been caused by him."
Banning F from seeing his son, the judge said: "Any contact, supervised or otherwise, in the immediate future [poses] a very real risk and danger."
South Yorkshire Police confirmed the child's father and mother had been interviewed under caution and investigations continue.