Sheffield fire stations' building work begins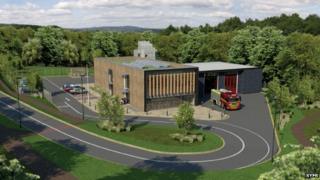 Building work has started on two new fire stations in Sheffield.
The £8.5m project will replace existing stations at Darnall, Mansfield Road and Mosborough and is due to be complete in summer 2015.
Hundreds of people signed a petition against the stations being built at Birley Moor and Parkway after they were earmarked for green belt sites.
But, South Yorkshire Fire and Rescue service has said the sites were chosen to provide quick response times.
Chief fire officer, James Courtney, said: "These two new fire stations are central to the provision of our service in south and east Sheffield.
"They are located in the optimum positions to enable us to respond quickly and effectively to emergency incidents and I look forward to their completion next summer."
The fire service said it had considered 32 other sites before choosing the two locations.
Councillor Jim Andrews, chair of the fire authority, said: "It is pleasing to see work begin on these two new fire stations, which will provide improved emergency cover in the local area."