Sheffield's Castlegate development plan revealed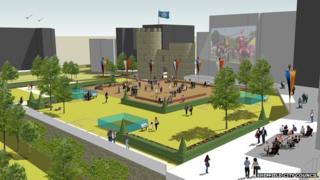 Plans to rebuild the entrance to Sheffield's former castle as part of a £5m regeneration of the city's Castlegate area have been revealed.
Sheffield City Council said it hoped to reconstruct the gatehouse and build a park on the site of Castle Market, which closed in November.
The council said it had committed £1m to the project and hoped to secure further funding via a series of bids.
The castle was destroyed in 1648 after it was seized by parliamentary forces.
A council spokesperson said: "The extent of the surviving castle ruins is not fully known. But if bids are successful, work will begin with a series of trial trenches in areas of the site not previously investigated.
"A new park will then be designed to allow these castle remains to be conserved and interpreted."
Initial designs for the site also include the re-excavation of the castle's moat.
If the council is successful in its bid for funding, and once work to demolish Castle Market is completed in October, a full archaeological excavation of the castle site will take place.
Three sections of the castle's remains, which were accessible through Castle Market, were Grade II-listed in June 1973.
Councillor Leigh Bramall said the Castlegate area could become "an area of real historical significance for visitors, a green area where leisure pursuits can be enjoyed, and an area where vacant buildings are being regenerated and brought back into use".
Martin Gorman, chair of the Friends of Sheffield Castle, said: "The Friends of Sheffield Castle are very excited by the bold proposals put forward by the council and are looking forward to contributing our ideas and fund raising efforts to make them a reality.
"People are going to be surprised by what a rich history the castle site has witnessed."