Thavisha Peiris murder: Men jailed for life for pizza driver killing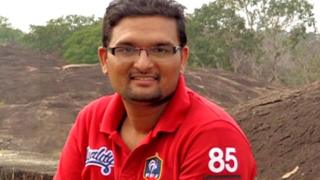 Two men have been jailed for life for murdering a pizza delivery worker who was on his last shift before starting a new job in IT.
Thavisha Lakindu Peiris, 25, bled to death in his car in Southey Crescent, in Sheffield, on 27 October.
Kasim Ahmed, 18, from Darnall, and Shamraze Khan, 26, from Sheffield, were jailed for a minimum of 23 and 24 years respectively.
Ahmed pleaded guilty to murder on 7 July. Khan was convicted after a trial.
Mr Peiris, from Sri Lanka, was working as a Domino's Pizza delivery driver after graduating in IT from Sheffield Hallam University.
He had been trying to make what would have been his final delivery before starting his "dream job" as an IT consultant when he was stabbed to death in a "frenzied" knife attack.
Mr Peiris was stabbed repeatedly by Ahmed as the two defendants attempted to steal his mobile phone, prosecutors said.
A post-mortem examination revealed he had suffered 14 stab wounds, including one which severed his carotid artery and another to his heart.
After his arrest Khan told police he saw Ahmed pull out a knife and stab Mr Peiris in a "frenzied attack", but claimed he did not know he was carrying a weapon.
He said he was unable to stop him, but did not encourage or take part in the attack.
However, the prosecution said both men were carrying knives that night and were jointly responsible.
Sentencing the two men the judge, Mr Justice Coulson, said Khan had played a secondary role in the attack.
Sheffield Crown Court heard Khan and Ahmed had robbed a teenage girl and her friend at knifepoint of their mobile phones an hour before the killing.
Ahmed, who was described as a "habitual street robber", was on bail when he murdered Mr Peiris after breaching the conditions of a court sentence for a previous robbery.
Addressing Ahmed, Mr Justice Coulson said: "When you first stabbed Thavisha Peiris, you may well have intended only to do him really serious harm.
"But the number of blows inflicted, the considerable force with which you stabbed him... and the effort required to pull the knife out of his body and stab him again, leave me in no doubt whatsoever that, as you continued to stab him, you were concerned only to kill Thavisha Peiris.
"You brutally killed someone providing a form of public service, just because you wanted his mobile phone."
Turning to Khan he said: "You were the partner of Kasim Ahmed in the carrying out of two knifepoint robberies in Sheffield City Centre at about nine o'clock that night, and you were again his partner in the similar attempted robbery which led to the murder of Thavisha Peiris about an hour later."
James Scott from the Crown Prosecution Service's said: "Thavisha Peiris was a gentle and loving young man.
"He was working his last shift as a delivery driver in Sheffield before starting a new 'dream job' when his life was senselessly and brutally cut short, the victim of a frenzied knife attack.
"The loss of Thavisha has left his family and friends devastated."
Det Sup Lisa Ray said: "These two individuals both pleaded guilty to committing a robbery just over an hour before Thavisha was murdered so they had been out together in Sheffield city centre and committed two robberies with a knife. They were both acting together then, when they committed that robbery, so when they went out later that night we have to conclude that they were acting together.
"I've dealt with a lot of murder investigations, every one of them is tragic … but I think, given the circumstances - it being his very last delivery, the fact the family had sent him here - it is the saddest case I think I've dealt with."
Mr Peiris' family, who where not in court for the sentencing, said he was the "centre of our world" and they would "never get over losing him".
In a statement they said: "We are still devastated and heartbroken over the loss of Thavisha and we are still unable to comprehend that he is actually gone.
"He gave us so many reasons to smile and he was so caring and loving.
"All we have left are our memories but they will never fill the void in our hearts. He will never again be with us and we will never hear his voice again.
"We sent our son to the UK to study so that he could have a better life. We never thought he would be in any danger.
"The way in which he was taken from us is absolutely devastating."