Stolen white rabbit discovered inside Maltby postbox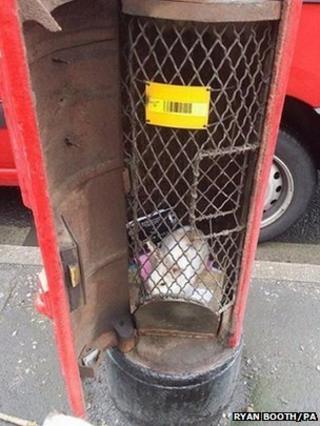 A rabbit is discovered inside a postbox in South Yorkshire in a "silly prank" after it was stolen from its owner.
The small white rabbit was found by a postman during his rounds on Saturday morning in Maltby on top of the usual letters and cards.
The RSPCA said it had been returned to its owner and had no injuries "despite its ordeal".
It said the rabbit had been taken from its hutch and an investigation was under way to find the perpetrators.
"We managed to trace the owner who said that the rabbit had been taken from its hutch in her garden," a spokesman said.
"Clearly this was a silly prank that could have resulted in the rabbit being seriously hurt.
"We have launched an investigation, so we will be hoping to track down the culprits and take any appropriate action."
Royal Mail said it was not known how long the animal had been inside the postbox.
A spokesman for the company said: "It's highly unusual. It's a sad thing to see and we're glad for the quick thinking of the postie.
"We are glad it's safe and sound."