Girl, 13, injured during spate of shootings in Sheffield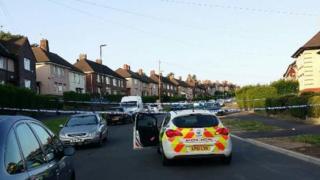 A 13-year-old girl has been injured during a spate of shootings in the space of two hours in Sheffield.
South Yorkshire Police was called to the Parson Cross estate after reports of shots on three separate roads, between 21:30 and 23:10 BST on Monday.
The girl suffered minor injuries on Deerlands Close, where shots were fired at the door of a house.
Vehicles were also shot on Barrie Crescent and Lindsay Avenue. Police believe the incidents are linked.
Roads remain closed while police investigate.
Carol Wilson who lives nearby said the incident had frightened local residents: "It's not safe like it used to be when we were kids - I daren't let mine out. I've got five kids and I don't like them going out."