Firth Rixson signs £580m aerospace manufacturing deal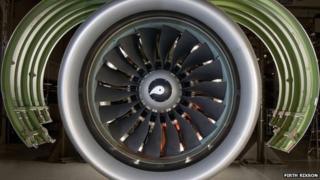 A manufacturer of aerospace components has signed a 10-year deal with a US company worth $1bn (£580m).
Firth Rixson, based in Sheffield, will supply United Technologies Corporation in Connecticut with aeroplane engine and landing parts.
The company said the deal would "considerably benefit" 11 of its 12 factories in the UK, North America and China and extra jobs would be created.
It currently employs 2,400 people, with 550 at its three Sheffield sites.
David Mortimer, chief executive of Firth Rixson, said: "UTC demands high standards for quality, delivery, cost and performance.
"We are delighted to have gained their customer confidence and secured Firth Rixson as a leading supplier in this globally competitive market."
'Exciting time'
The agreement comes three weeks after the company announced it was being sold to US metals giant Alcoa in a deal worth $2.85bn (£1.6bn).
Details of its partnership with UTC were revealed at the biennial Farnborough Airshow.
The company will provide parts for the Boeing 787 and Airbus A320.
Benoit Brossoit from UTC said: "We are pleased to further expand our relationship with Firth Rixson."
Firth Rixson's Sheffield sites are at Meadowhall Road, Milford Street and Ecclesfield.
It has other sites at Glossop and Matlock in Derbyshire.