Gibraltar Street in Sheffield reopens after bomb scare nine-hour road closure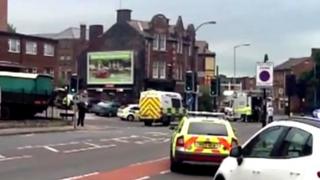 A main route through Sheffield was closed for nine hours and residents were evacuated while police investigated a suspicious package.
Workmen renovating a closed-up shop in Gibraltar Street on Monday afternoon found a suspected bomb and called South Yorkshire Police.
Gibraltar Street, Lambert Street and nearby roads, including the ring road at Derek Dooley Way, were closed.
All roads had reopened by 00:15 BST on Tuesday.
About 30 residents were evacuated from the building on Gibraltar Street while the army bomb disposal team carried out a controlled explosion.
The council set up an overnight rest centre for people displaced by the road closures.
Supt Colin McFarlane, of South Yorkshire Police, said detectives were conducting house-to-house inquiries to establish exactly what the package was.
He said while it "looked like a bomb" there was nothing to indicate that it was an explosive device.
"We need to understand exactly what it was, why it was left there, and the intention of anyone who did leave it there," he said.